Of course by now you have witnessed the shift in the marketing paradigm. Businesses and brands are changing up their marketing strategies. Seems like every time you turn around there is a new social network or significant growth in emerging platforms which keep marketers on their toes. As consumer's attitudes and usage of these platforms change, so must our marketing strategies. These changes are laying the foundation for a new era of marketing on the web – the Inbound Marketing era.
What Is Inbound Marketing?
Inbound Marketing  boils down to developing a strategy that focuses on getting found by customers. More specifically, Inbound marketing is a content driven strategy that involves attracting and converting visitors into customers through personalized, relevant information and content, following them through the sales experience with ongoing engagement.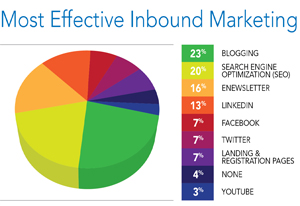 In traditional marketing (outbound marketing), companies focused their time and resources on finding customers. They use techniques that are poorly targeted and that interrupt people. They use cold-calling, print advertising, T.V. advertising, junk mail, spam, and trade shows. With the spawn of the internet and other technologies the effectiveness of  these techniques have been dwindled downward and have become more expensive. Caller ID and Do Not Call Lists blocks cold calls, DVR's make T.V. advertising less effective, spam filters block mass emails, and tools like RSS are making print and display advertising less effective. It's still possible to get a message out via these channels, but it costs a whole lot more.
Inbound Marketers take a much different approach. Instead of spending lots of money and interrupting people with television ads, they create online videos that potential customers want to see. Instead of becoming apart of all the ad noise by buying display ads in print publications, they create their own business blog that people who share interest subscribe to and look forward to reading. Instead of cold calling, they employ content marketing techniques and tools so that prospects contact them looking for more information. Instead of driving their message into a crowd over and over again like a sledgehammer, they attract highly qualified customers to their business like a magnet. And that' makes all the difference in world.
The most successful Inbound Marketing campaigns have three key components: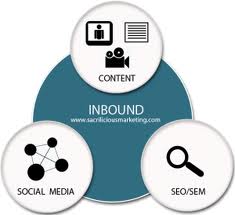 Content – Content creation is the core of any Inbound Marketing campaign. It is the information or tool that attracts potential customers to your site or your business.
Search Engine Optimization – Search engine optimization makes it easier for potential customers to find your content. It is the practice of building your site and inbound links to your site to maximize your ranking in search engines, where most of your customers begin their buying process.
Social Media – Social media amplifies the impact of your content. When your content is distributed across and discussed on networks of personal relationships, it becomes more authentic and nuanced, and is more likely to draw qualified customers to your site.
Why Inbound Marketing Makes Sense

As the country continues to endure a financial slump, more and more companies are adopting an Inbound Marketing Strategy because quite simply it cost too much not too. As CEO of Hubspot, Brian Halligan, puts it, when you're inbound marketing, the thickness of your brain matters a lot more than the thickness of your wallet.
There are three specific ways Inbound Marketing improves on the efficiency of traditional marketing:
It Costs Less – Outbound marketing means spending money – either by buying ads, buying email lists or renting huge booths at trade shows. Inbound Marketing means creating content and talking about it. A blog costs nothing to start. A Twitter account is free, too. Both can draw thousands of customers to your site.  The marketing ROI from inbound campaigns is higher.
Better Targeting – Techniques like cold-calling, mass mail, and email campaigns are notoriously poorly targeted. You're reaching out to individuals because of one or two attributes in a database. When you do Inbound Marketing, you only approach people who self-qualify themselves. They demonstrate an interest in your content, so they are likely to be interested in your product.
It's an Investment, Not an Ongoing Expense – When you buy pay-per-click advertising on search engines, its value is gone as soon as you pay for it. In order to maintain a position at the top of Google's paid results, you have to keep paying. However, if you invest your resources in creating quality content that ranks in Google's organic results, you'll be there until somebody displaces you.