And old saying in investing is "diversify, diversify, diversify" – you don't want to put all your eggs in one basket by investing all of your money in one company's stock. Instead, smart investors spread their investments around to a diverse portfolio of stocks, bonds, mutual funds, cash and other assets. In the same way, a smart lead generation strategy requires a balanced approach.
Your sales organization needs to think about how you can "diversify" your lead generation efforts between inbound and outbound sales leads. Sales leads often perform differently and cost more (or less) depending on how you acquire them. Sales leads from some sources are higher quality or better qualified than others. The cheapest sales leads to acquire are not always the best, and sometimes the main cost of acquiring a sales lead is the effort it takes to create that initial relationship and attract interest from the prospect.
Here are a few points of difference to consider between inbound and outbound sales lead generation as you build your diversified "portfolio" of sales leads:
Inbound lead generation: The sales leads come to you.
With inbound lead generation, your company creates a platform of marketing activity that helps draw people in. Basically, sales leads come to you – this requires your company to invest in building the online infrastructure and human capital that make people able to find you (and make them interested to talk with you).
A few types of inbound lead generation include content marketing (blogs, articles, social media), SEO (search engine optimization – designing and writing your website in a way that is optimally suited to attract people who are already looking for what you offer), and PPC (pay-per-click ads such as Google ads, where you can put a brief message in front of people who are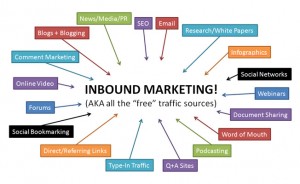 searching for your solution, and invite them to click through to your company website).
Inbound lead generation is great for drawing people in. Instead of attending conferences and networking events, cold calling, or buying e-mail lists, the sales leads come to you. But with inbound lead generation, you need to put in a lot of upfront work and time investment in optimizing your website, writing content regularly and staying active on social media. It's a lot of work, but you can get a lot of sales leads.
The only drawback of sales leads from inbound lead generation is that you don't always know what level of sales lead quality you are going to get. Most sales leads from inbound marketing are going to be unqualified – the prospects might have some basic level of understanding about your business, but beyond that, there is no guarantee they are qualified.  They can be the wrong size business, wrong geography, and in many cases, just not the right fit. The quality of inbound sales leads can vary from one week to another. Some inbound sales leads are your ideal target market, and others are not. But you might end up with a lot of great sales leads that you would not have found from traditional outbound approaches.
Another advantage is that over time, with inbound lead generation your organization is creating a lasting footprint of published content and online outreach that can potentially continue generating sales leads into the future. You never know when a valuable sales lead might find your website based on a blog article or forum comment that you published a year ago.
Outbound lead generation: Go find your ideal target market.
While inbound lead generation can help drum up a larger pool of sales leads, most B2B sales organizations are still finding big opportunities from "traditional" outbound lead generation tactics like cold calling, appointment setting and e-mail.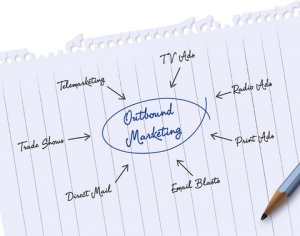 Outbound lead generation is pretty straightforward – you choose your ideal target customers, and go after them. You have to spend time researching prospects and investing time in building relationships, but the advantage is that these tactics enable you to target specific companies that are in your organization's sweet spot – companies that are the right size, the right revenues and that are more likely to be in the market for what you offer.
Instead of investing in online activities and hoping that good sales leads show up at your front door, outbound lead generation enables your sales team to proactively go after the types of B2B sales leads that are the best fit for what you sell.
So which type of lead generation is "best," inbound or outbound? The truth is, if your organization wants to build a robust sales pipeline, you need both.
Inbound and outbound lead generation tactics help support each other. For example, your outbound prospecting calls will be more effective if your company has a well-designed website and up-to-date blog that shares your company's expertise with customers. Your sales team can use the content marketing materials as part of its conversations with prospects.
Having a diverse portfolio of sales leads from both inbound and outbound lead generation efforts is the best way to keep your sales team busy closing deals.
Post by Gregg Schwartz is the Director of Sales at Strategic Sales & Marketing,