Crowd-funding, a great and very doable option to help get your idea or project off the ground.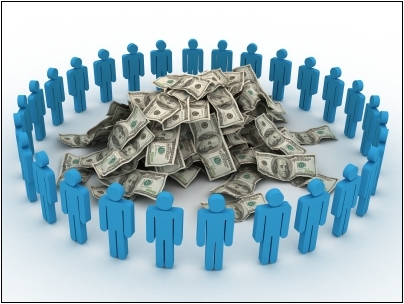 I often have the pleasure of hearing all the wonderful, great ideas my friends share with me, but more times than not they just lack the resources or contacts to get it off the ground. In the age of rapidly growing world of social media, there is really no need to wait. You don't have to search high and low for a proficient grant writer or to get a celebrity friend of a friend of a friend to read your business proposal. Consider crowd-sourcing, a great and very doable option to help get your idea off the ground.
Recently, a client of mine came to me for help with crowd-funding a grassroots movement inspiring inner-city student through music. The initiative is called Music Motivating Minds, created by two professionally trained musicians on a mission to change the world, by exposing children to music history, cultural experiences, and creativity, which is proven to foster dramatic positive change in students as well as communities.
Crowd-funding is a great way to raise money to support a special project that you always wanted to do such as – publish a book, make a film, create a game, art project, or record a CD – but lack the necessary funds to get started? Crowd-funding is simply where a group of people put their money together to support a cause or fund a project they feel strongly about over the Internet.
As a marketing consultant, I understand all too well the difficulties face when trying to raise money for a cause or movement. Crowd-funding certainly speaks directly to those issues, but however, is not without its own set of issues to consider. Let's examine the elements that make up a successful crowd-funding campaign.
The first step in kicking off a crowd-funding campaign is choosing a source. Kickstarter.com and Indiegogo.com are currently two of the well-known crowd-funding sites on the Internet.  Others include Rockethub.com, Newjelly.com, and Quirky.com, and Cofolio.com, which target specialty projects. After a little research you will be able to determine which source is better for your project. We choose Indiegogo.com for our purposes.
Next you create a page on your source site outlining the details of your project along with your project funding goal and a time frame to reach it. Finally over the next 30-45 days, depending on the length of your campaign, people donate money until the time frame of your campaign is over, funding your project.  Sounds easy enough, huh?  Trust me, it's not.  Creating a successful crowd-funding campaign requires dedication, planning, and hard work. It does not hurt to have an aggressive marketing and public relations plan as well. Let discuss the obvious yet often over looked elements of a successful crowd-funding campaign.
1. Have a Go-to-Market Plan
A crowd-funding campaign is just like any other event or launch. It takes focus and planning including goals, strategy, a budget, and known resources in advance of going live. Make sure to start your campaign off right, don't shortcut this critical stage and focus on gathering what is required for a successful campaign.
2. Team work makes the Dream Work
Statically speaking, 30% of funding comes from friends, family and colleagues. And it's unlikely you'll be able to do everything yourself – creating a cross-functional team is the essential key to campaign success. Think in terms of two groups in your core team:
Experts you need to do the work before, during, and after the campaign.
Initial funders to help you create demand out of the gate.
You'll notice and uptick in funders who don't know you when they see your results, identify with your cause, and believe the risk is low or none at all.
3. Content is King! Create Multimedia Content for Key Channels and Stages
With so many ways to reach, engage and convert people on the web, you need a variety of content including positioning, SEO, photographs, email marketing campaigns, blog posts, elevator pitches, offers, etc. Video is a proven, low-cost way to create your pitch, help it spread, and increase funding results.
4. You Have to Become a Storyteller
We humans are attracted to and inspired by stories (a narrative) that enable us to relate to characters, settings, challenges and goals. Be authentic and reveal something that isn't common knowledge. Help others see the benefits of your project and the sacrifices you have made to deliver them.
5. Cultivate Passion and Trust
Passion articulated clearly can become quite viral. Crowd-funding is social media and community engagement – so convey your trustworthiness through actions, proof points, clear updates and tone. Funders want to help but also want to know where their money is going and what's in it for them.
6. Be Faithful, Courageous, and Innovative
There is nothing unique about pitching a story on camera, asking for money, and promising delivery of something, nor is it typically within anyone's comfort zone. Add social media and a compressed timeline and things get interesting. While you will likely lose a few people on Facebook, it's important to respectfully push the envelope and involve others. Be true your vision and experiment with different tactics.
7. Remain Flexible and Ready to Pivot
Even with a solid go-to-market plan, crowd-funding isn't predictable. This is one reason why it's exciting and intense. Embrace it! The crowd will provide valuable feedback, either through action or not, and it's important to tune in and be prepared to make needed changes on the fly.
8. Connect With an Crowd Who Cares
Your core team of experts and initial funders care. To connect with more funders and encourage sharing by others, use a variety of marketing tactics and channels including email, social media, PR, SEO, direct mail, public speaking, etc. Social media is the backbone, but be sure to target and choreograph urgency to create results.
9. Reward Accordingly
An effective crowd-funding campaign must have a balanced reward system. Good rewards for small contributions are very important. Because many people today are on tight budgets, a bulk of your project may be funded by several small contributions, rather than a few large ones. But bigger contributions must also still be recognized with higher rewards, as bigger contributors should be recognized in a way that sets them apart from the small contributors. Remember, in crowd-funding, every pledge is important. Your rewards should reflect their importance.
10. Be AND Stay.. Committed
Crowd-funding is typically a short-term, low-cost effort but your reputation lives on. If you're going to use crowd-funding to achieve important goals, be sure to maintain integrity and deliver to the best of your ability. Protect the crowd and craft staying committed to doing the right thing.
In closing, remember, running a crowd-funding campaign can be hard but it can also be very rewarding. You're not only getting funded, you're also creating a market for your future product and a relationship with your future consumers, paramount in today's economic climate.
Consider these ideas when starting your own crowd-funding campaign. Please visit WinslowDynasty's Music Motivating Minds campaign and become a part of positive change.