The sales of smart phones up from last year is no surprise with users spending increasing amounts of time online on social networks like Facebook, but when exactly are users the most active and why should it matter? Social media management company Vitrue just released a study that identifies the days and hours users are most active on the Facebook channels maintained by companies and brands.
In the study, Vitrue analyzed Facebook post data from August 10, 2007 to October 10, 2010 from more than 1,500 brand streams — more than 1.64 million posts and 7.56 million comments in all. Shares and "likes" were not included in the study.
Here are some of the major findings from the study:
The three biggest usage spikes tend to occur on weekdays at 11:00 a.m., 3:00 p.m. and 8:00 p.m. ET.

The biggest spike occurs at 3:00 p.m. ET on weekdays.

Weekday usage is pretty steady, however Wednesday at 3:00 pm ET is consistently the busiest period.

Fans are less active on Sunday compared to all other days of the week.
Morning Posts Are More Effective
Although most posts and comments appear around 3:00 p.m. ET, posts published in the morning tend to perform better than those published in the afternoon.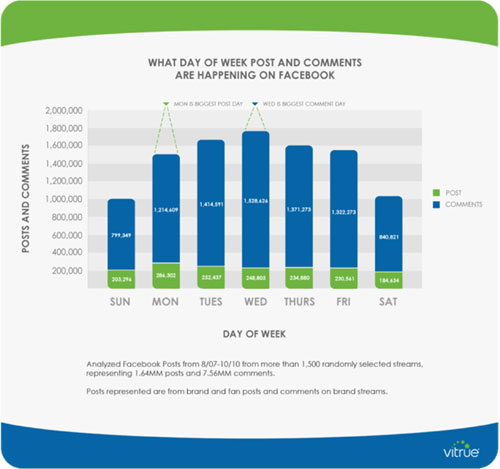 Vitrue's data indicates that morning brand posts are 39.7% more effective in terms of user engagement than those published in the afternoon. Additionally, the top of the hour (:0 to :15 minutes) tend to see more interaction than other parts of the hour. The second half of the hour (:30 to :45 minutes) is the second most popular time for interaction.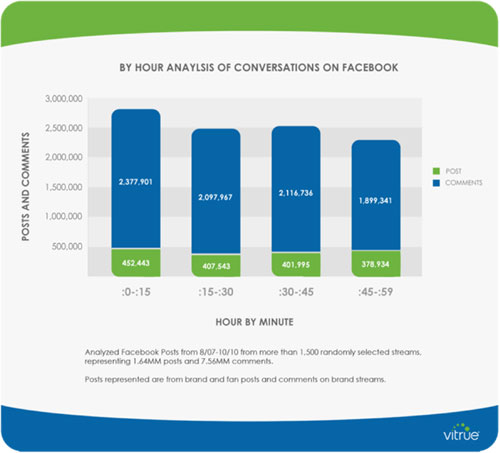 This makes sense if you think about how meetings and breaks are scheduled. A quick check on Facebook before heading into another meeting or task might be more likely to happen at the top of an hour than in the middle or toward the end.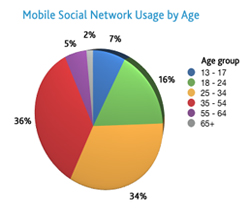 Why This Matters
Ultimately, the goal for brands on Facebook is to be able to engage with their customers or potential customers and to promote a message. Last month, we looked at a study that broke down how users interact with brands on Facebook.
"… 65% of Facebook users only access the site when they're not at work or school — typically early morning or evening. That means that if you're making social media only a part of a 9 to 5 work day, you might be missing out on connecting with consumers during the times they're likely to be online."
Vitrue's findings match that sentiment. Knowing when users are engaging and interacting with your page can be crucial to getting the most effective message across.
To be clear, this data is going to continue to shift as usage patterns shift. There is more to knowing when users are active to designating a publishing schedule. After all, if all publishers pushed out content at the same time, users would be overwhelmed and the net gain might disappear.
Still, following these type of usage patterns is an important part of maximizing the way brands and users can communicate.